Bringing Everyone Closer Together
Your perfect family getaway awaits you at Beaches all inclusive Resorts in Jamaica and Turks and Caicos. Play on pristine, white-sand beaches caressed by crystal-clear seas. Spend your family vacation in luxurious rooms and suites. Enjoy a whole array of incredibly exciting and fun activities for kids of every age. Truly, Beaches Luxury Included® vacation package deals in Jamaica and Turks & Caicos promise unforgettable family fun beneath the Caribbean sun.
Allow the travel advisors of TPI-TRAVEL NAVIGATORS to show you the benefits and value of a vacation that offers unlimited all inclusions for everyone.
A Beaches Vacation includes more of everything for everyone, from every land and water sport under the sun, to anytime gourmet dining at up to 20 restaurants and luxurious family-friendly suites. Kids of all ages love our Kids Camps, while teens have their own scene with Xbox Play Lounge, Liquid nightclub and Scratch DJ Academy®. Beaches offers more inclusions, more choices, and more ways to enjoy time together.
Beaches Turks & Caicos
Dive into a one-of-a-kind, unbelievably exciting Beaches all-inclusive Turks & Caicos vacation for the whole family. A 45,000 square-foot waterpark; four magnificent villages, boasting the architecture and ambiance of Italy, France, the Caribbean and Key West; a 12-mile beach lapped by clear turquoise waters; endless fun activities for everyone, from tots to tweens and teens, featuring Sesame Street® characters, the Xbox Play Lounge and a sizzlin' teen disco, Liquid at Beaches-all located on one of the world's best beaches.
Grace Bay - Voted the World's #1 Best Beach by TripAdvisor's Travelers' Choice awards, Grace Bay is 12 miles of sweeping white-sand beach on the north shore of the island of Providenciales in Turks and Caicos. Located on the best stretch of this famous beach, Beaches Turks & Caicos is lapped by the calmest and clearest turquoise waters, perfect for every type of water sport.
Beaches Negril
Carefree & Casually Cool. The moment you walk into Beaches Negril, you officially enter a carefree zone. Negril is the place where "laid back" was invented, and that vibe is totally contagious. Before long, you'll be footloose and cheerful in a paradise where everything is included. When you're located on the widest stretch of Negril's famous 7-mile Beach, the best place to be is at the water's edge. That's why we've even put a waterpark there. Everything you can possibly imagine is beachside at Beaches Negril — from lively pools to restaurants and bars. Seek adventure, relax, or do both. It's all about spending time with those you love… any way you want.
7 Miles Of Pure Paradise
Negril's Seven-Mile Beach has been voted many times over as one of the best in the world, known for its dramatic sunsets, silky white sands, clear turquoise waters, and spontaneous island spirit.
Spread out over a lushly landscaped 20 acres, Beaches Negril epitomizes paradise with spectacular gardens beside the sea, a sprawling Pirates Island waterpark, and plenty of activities and amenities for the whole family.
Beaches Ocho Rios
Beaches Ocho Rios has something for everyone in the family. If you're game for "surf & turf," from a huge action-adventure waterpark to championship golf for the whole family, look no further than Beaches Ocho Rios all-inclusive resort, voted among the Top 10 Best Beach Resorts by Parents magazine. Twenty-two acres of lush tropical gardens, a gorgeous private white-sand beach, seven gourmet restaurants, three fantastic swimming pools, a dedicated scuba practice pool and an entire ocean of watersports are just a few of the places & things to explore.
All New - Entirely Redesigned
Our newly designed rooms and suites reflect the new spirit at Beaches Ocho Rios. Check out Jamaica's new destination for fun at Beaches Ocho Rios as we unveil a brand new look and new experiences for the whole family. Tucked into the cliffs of the north coast, this resort is our best kept secret for an island escape with a white sand beach, lush gardens and endless adventure.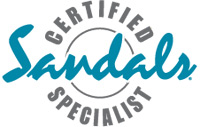 There may only be 3 resorts to choose from but with dozens of room categories and various promotions to consider, why not allow TRAVEL NAVIGATORS to do the work for you and leave you focused on the fun
Beaches Resorts…part of the Sandals family
The team of travel advisors at TRAVEL NAVIGATORS are all Certified Sandals Specialists which requires attending yearly training keeping us up to date with all things Beaches.  We have unique insider knowledge as we have visited or stayed at all 3 of the Beaches resorts.  Combined with our close working partnership with the Beaches sales staff, we are able handle any unique requests or requirements from our clients.
What does this mean for you?
From our first meeting until the time you return home your vacation experience is seamless.  In getting to know your vacation dream, we can quickly narrow down the correct Beaches resort, room category (and there is a lot of them) and best value promotion.  This allows you to just sit back, count down your travel days and get ready to unwind.