Follow me on my European experience sailing the Rhine and Danube Rivers from Budapest to Amsterdam with Avalon Waterways.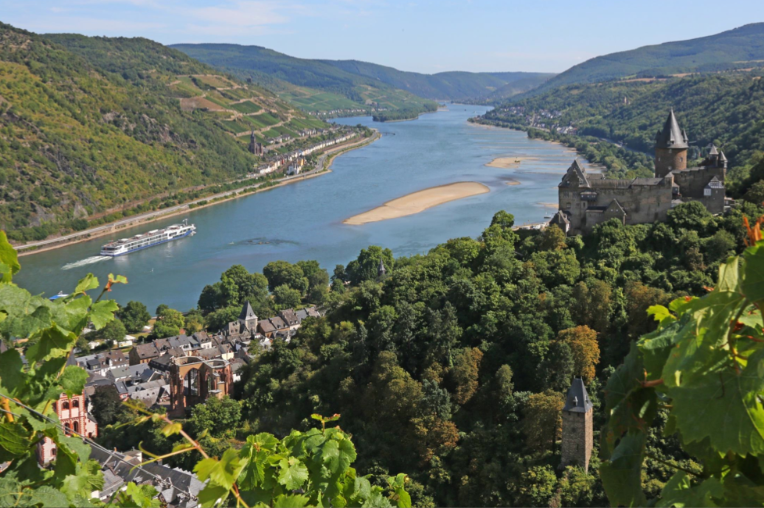 13Jul:  Arrival Day
After departing St John's 12Jul via Toronto and Frankfurt, we arrived in Budapest 13Jul at 10:00am with a trip straight to our Virtuoso partner hotel.  We met Julianna at the Kempinksi Cornivus Budapest Hotel to check out all the complimentary Virtuoso amenities included with all stays that I book for my clients. The spa is relaxing, the restaurants are delicious, the service is superb and the location is absolutely perfect. Later in the day, we started to explore this amazing city with a walk on the Chain Bridge, a visit to the Sixty Shoes Memorial where people were executed along the Danube (their shoes were valued more than their life) and then a stop at The Great Market Hall which was full of great fresh produce, crafts and all the salami you can imagine.  Of course we had to stop at a couple of the cafes with Hungarian beer, beer and did I say beer.  The city boasts beautiful architecture, warm people and not crowded at all.
My first tip…add an extra day to your itinerary so you can deal with the jetlag from flying to Europe.  There's so much to see you don't want jetlag to affect your vacation!
Stay tuned for more….
---
14July: Budapest, Hungary
We boarded the Avalon Expression today and have an overnight in Budapest so another opportunity to explore the city. Already I know this will be fantastic home for the next two weeks. The room is beautifully laid out with lots of storage, luxury amenities and the bed is facing the most amazing view. Avalon Waterways is the only river cruise company that offers a cabin layout with the bed facing the windows.  We met some truly interesting people before we even boarded today.  At dinner tonight we quickly became friends with our dining companions. It was a wonderful meal with great service and no "pressure" to leave the dining room as you don't have the 1st and 2nd traditional dining times as on the ocean cruises.  In fact our new friends and us were the last to leave the dining room.
I am excited about the next two weeks!
Tip of the day…If you believe river cruising is for the "older" generation, then you should rethink that as there is a wide age range onboard with many in their 40s.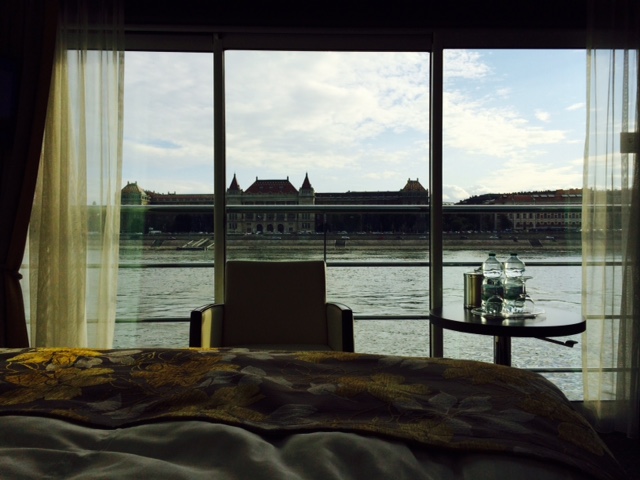 Can't wait to see what amazing views are coming….
---
15July: Budapest, Hungary. Heroes Square, Fishermen's Bastion, Matthias Church Chain Bridge and St Stephen's Basilica.
It's our last day in Budapest which started with a relaxing visit to Heroes Square, the Budda side of Budapest and for spectacular views of the city, a stop at Fisherman Bastion. We were back onboard for lunch today and tried out the BBQ on the top deck which was delicious. As there is lots of free time this afternoon, I am heading to a few cafes and getting some shopping in before we set sail tonight.  As with any cruise, the internet has limitations so uploading pictures takes a bit of time.  What I can't upload now, I will on my return home.
Tip…look for an itinerary that includes an overnight in your starting city as it allows you more time to explore without the additional cost of a hotel
---
16July: Bratislava, Slovakia. Walk along the cobblestone streets and narrow alleyways into the Old Town Town Hall.
Sailing out of Budapest last night was so serene so beautiful. I fell in love with the city. I kept the curtains open all night so I could see any scenery if I wasn't sleeping. We went through the locks this morning which seems to be an engineering marvel (not that I would know), it was quite impressive. It was a very hot day in Bratislava. We visited a castle, some churches and my favourite again was the local cafes called Old Town surrounded by old buildings, cobblestone streets and impressive large doors to cute apartments.
The ship remains docked until 11 pm tonight so it's very convenient to leave the boat and reach the middle of the Old Town in about a 5 minute walk. Tonight I had a relaxing night after dinner in the sauna followed by a cup of hot milk (gotta get one of those machines).   I think we have already met most everyone onboard. It's mostly an older generation but these people are so active, very interesting and welcoming. We are having so much fun with these people.  Looking forward to Vienna…
Tip…the staff onboard, amazing
---
17July: Vienna, Austria. Vienna appears awe-inspiring full of architecture and beautiful streets. Maybe the zoo.
Vienna is stunning. There is large beautiful buildings everywhere you look. We spent most of our time in the downtown district where every single structure surrounded us was magnificent. It is just impossible to take pictures of them all. The city was very modern with high end shopping. These European locals know fashion, a step up from my Costco outfits lol. I was very excited to eat at Demel, a pastry shop that originated in 1888. After looking at hundreds of choices of pastries, cakes and strudels, we settled on our little piece of heaven and Vienna espresso with whipped topping. There is an unusual heat wave today (38 degrees) and it has been second hottest summer on record. I decided against the Vienna Zoo and Schonbrunn Gardens in this heat so we spent more time checking out the local delicancies in the shade. One of the many great things about river cruising is you have a choice to explore all day or you come back to the boat to have lunch, rest, cool down and go back out in the city again as its only a very short walk to the main attraction areas.
Tip…the included guided tours are very informative and it points you in the right direction to give you plenty of free time to explore on your own.
---
18July: Durnstein-Melk, Austria. Visit the Benedictine Abbey.
We went to Durnstein and Melk in Austria. Durnstein is a cute little village. We hiked to the mountain top where Lionheart was imprisioned. It was a tough climb in the hot weather but the stunning view at the top was certainly worth it. Then we sailed on to Melk, where we visited the Benedict Abby where monks still live and teach. It was the most beautiful church I've ever seen and the grounds were equally as beautiful. We walked back to the boat through the village and sampled some more local beer and gelato.
The dining room was loud with people laughing and telling stories about yesterday's excursions. The first night on board everyone was friendly but less than a week in and it's like we are sitting around the family table. We even had a couple of dances in the lounge last night and tons of laughs.
---
19July: Passau, Germany. Salzkammergut Lake District in the beautiful countryside – the most panoramic villages in Austria. Most excited about this!
There was a choice of three all day excursions today, we choose the Romantic Austria in the Salzkammergut Lake District. It was a short drive to the alps. I love nature trails and scenery so this didn't disappoint. We stopped at three beautiful lakes. I've decided one day here is not enough and I have to come back with my family. There is so much to do like water activities, biking, camping, boating and the scenery is just perfect.  For lunch we forgo all the lake side restaurants and had a picnic on the dock with my feet in the water.  Everyone here is quiet relaxed and the locals know to spend their Sunday. The last lake was in Salzburg where the Sound of Music was filmed. It was also busy with the most water sports activities I've ever seen in one place.  I knew I would love Austria and I surpasses all my expectations.  I am so happy to have experienced this beautiful country.
---
20July: Regensburg, Germany. Famous German beers, old sausage kitchen, medieval city…oh my.
I don't like beer so I'm missing out on all the fun the beer drinkers are having in Germany. I do make up for the calories with the sausages though. We had beer and sausages in the oldest sausage kitchen in Germany, it was delicious. I stocked up on the sweet mustard sauce to share at home. As if there hasn't been enough beer today, there was a beer tasting onboard and everyone seemed to love it, Justin included. There was some nice stores to shops for shoes and clothes at reasonable prices in Regensburg. It is a old medieval city. We had local funny entertainment after dinner, the one man hum pa pa band, that involved some enthusiast guests. We called it an early night after another full day and watched movies in our room. I really have to get myself one of those fancy machines to make hot milk.
---
21July: Nuremberg, Germany. Gothic churches, Kaisreburg Imperial Castle and Nuremberg Rally Grounds.
We slept in late today and enjoyed breakfast in our room looking at the scenery as we sailed past beautiful countryside and went through lots of locks. The city of Nuremberg was a treat. The old town centre was surrounded by a fort which was amazing. The city centre had lots of shopping opportunities, very modern shops in such an old treasure.  I didn't buy anything but I did discover that the ships toiletries are very expensive so I'll have to stock up for souvenirs.  I have to say that the friends we have met onboard and the staff has made the vacation. Me and Justin are now honourary New Zealanders. I have never had such a connection with the staff, they are so genuine and fun. The same group of people end up closing down the bar every evening after tons of dancing and laughs.
In my opinion this has been the way to travel Europe. If you backpack, ride the trains or drive, you would carry your bags and try to figure out the transportation. We have experienced the cities both large and small on our own or with a guide and not having to pack or navigate through the traffic. We have met everyone on board and most of them have travelled Europe many times but this is their first river cruise. They all said that they wouldn't do it any other way now. It is mostly 60 plus guests but still lots of us in our 40s and 50s. Age doesn't matter if you are open to meeting new friends.
---
22July: Bamberg, Germany.
Bamberg is a UNESCO World Heritage site. The cathedral and town town hall was quiet impressive. The cobblestone streets are literally everywhere, thank goodness for comfortable shoes.  We bought a practical souvenir to break boiled eggs called "eierschalensollbruchstellenverursacher", also the longest German word.  It is law that residents must have their property snow/ice cleared by 7am every morning or they will be fined. Yikes!
---
23July: Wurzburg, Germany. Rothenburg is the place to visit to Germany, the best preserved medieval town in Germany. I was intrigued with this little place on an Amazing Race episode.
We went on an excursion to  beautiful Rothenburg, the first most visited place in all of Germany and the best preserved medieval town in Germany.  On the drive we were in awe over the amount of vineyards, no land space wasted and the steep hills with crops.  Rothenburg has a Christmas museum/market open year round, it was like Christmas on steroids! I did get a couple of ornaments to add to my travel collection. Also picked up some snowballs which is a famous pastry in this area. I also discovered that German ice wine (dessert wine) has three time the amount of sugar than coca cola! However this didn't stop everyone from drinking it on the way back to the ship.
The pictures today are just some of the views from our cabin as we sail across the heart of Europe.
---
24July: Miltenberg, Germany. Maybe I can help my husband sample some local wines 🙂
Miltenberg is a stunning quaint little village, a cultural gem.  A couple of us skipped the walking tour with the group and explored on our own. It was a beautiful walk in the market place around the pastry shops, boutique stores and beer brewery.  We are onboard sailing this afternoon so maybe I'll search for the treadmill and I've scheduled a manicure, only 15 euros.  There was a talent show several evenings ago and the participants was awesome from jokes to dancing to singing and whatever. Tonight is the crew talent show so that should be fun.
---
25July: Rudesheim-Rhine Gorge: Cruising along the legenary rock of the Lorelei where echoes of enchanted siren song lured unwitting sailors to their dome.
Another fantastic day, I've enjoyed every place so much I can't decide my favourite. There was a music museum that everyone so intrigued by. It was too windy today for the cable car to the top of the city. So I found the trails and we hiked up the vineyards that had was breathtaking views. The hiking has been one of the highlights of this vacation.
After Rudesheim we sailed past the 30 plus castles. It was windy and wet for the first time in two weeks but that didn't dampen our views at all. We sailed past the legendary Lorelei rocks on the Rhine. Words cannot express the beauty of the views. Tonight we arrived in Cologne so guests have the option to go out tonight.
The dining onboard has been fantastic. I've tried food that I wouldn't normally try but I've loved everything. The dining staff quickly figured out how to cater to each persons individual requests. Our favourite crew person is Stefan the bartender, he is genuine and funny 🙂
---
26July: Cologne, Germany: More cafes, shops, taverns.
Today me and Justin walked off the ship early in the morning and explored the city on our own. Cologne has a chocolate museum where it shows how the cocoa bean becomes a chocolate bar from start to finish. The highlight is the 10 feet high chocolate fountain to dip waffles so you can try. We walked across the Hohenzollernbrucke Bridge where thousands of couples latch "love padlocks" to symbolize their affections. It was Sunday so the retail shopping was closed but there was a market along the waterfront with beer gardens, cocktail jugs, delicious food and shopping.
It was a beautiful afternoon lounging on the top deck while sailing along to Amsterdam. We will be in Amsterdam tomorrow evening so everyone onboard took advantage of the Captains Dinner and crew talent show. A celebration was had by all.
---
27July: Amsterdam, Holland: Canal Cruise, Anne Frank's House and bicycle rides.
This is the first day of rain showers and more seasonally temps since this entire vacation. But that didn't dampen our spirits at all. We did the canal cruise which was included with Avalon. I'd highly recommend doing a canal cruise to anyone that visits Amsterdam. The city is so interesting with the canals, homes, history and atmosphere. We visited the Anne Frank home and museum which was very sad but something that should be visited. I will read the book again now. Of course it is impossible to visit Amsterdam and not check out the red light district…interesting indeed 🙂
---
28July: Amsterdam, Holland: Go to the Red Light District they said. It will be fun they said. Maybe!
After we walked off the ship for the last time, we check into The Grand Sofitel Legend Amsterdam…WOW. This hotel was a convent, has a Michelin Star restaurant, located in prime location, the hotel is spectacular by all accounts! I had to force myself to leave the hotel to explore more Amsterdam. We spent the day with our new friends we met onboard, shopping, lunch and touring the city. We had supper at an authentic thai restaurant based on the hotel concierge and it was delicious. Had it not been raining most of the day, I would have loved to do a bicycle tour outside the city, maybe next time.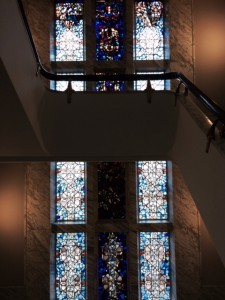 ---
Overall…
The whole trip has been amazing and something I will never forget. I am forever grateful that I had this opportunity to explore Europe on a river cruise. This sets the bar sky high for sure. We loved each and every place for different reasons from the cafes, architecture, culture and scenery. Some days we were in the city for half days, some days we were in the city all day/night. It is such a great way to experience Europe.
Some of our favourites was:
Budapest – we loved the markets, cafes and overall beautiful lively city.
Durnstein-Melk – the hike to where Lionheart was prisioned and the Benedict Abby was both jaw dropping experiences.
Sailing through the Rhine Gorge with the magnificent castles and scenery.
I can't say enough about Avalon Waterways and the crew, it was fantastic from start to finish. I never felt that two weeks was too long and was grateful for the two week sailing. Our panoramic suite with the bed facing the open sliding glass was beautiful. I loved keeping the curtains open while we slept sailing down the river.
I've met some beautiful new friends, seen so many beautiful places, experienced Europe in such a relaxing way…I am truely blessed.
---