Janet's Italy & 9 Night Greek Isles Cruise September 2017
In September 2017, some friends and I flew to Italy before sailing on a 9 Night Greek Isles Cruise.  The cruise departed from Civitavecchia and we were a group of 28 on the Jewel of the Seas with Royal Caribbean.
We started our vacation in Venice on September 22nd after an overnight flight out of Toronto, ON.  We arrived in Venice early in the morning and took the Alilaguna boat service from the airport to our hotel in Venice.  After we checked into the hotel and dropped off our bags, we kicked off our 2 days in Venice with a Venice Walking Tour from St. Mark's Square.   Some of our sites included the Grand Canal Venice, Bridge of Sorrows, St. Mark's Basilica, Rialto Bridge and St. Mark's Campanile.  We purchased a 48-hour ACTV Public Transport ticket that allowed us unlimited transportation on the water bus routes. 
23 September – Venice
The next morning we were up bright and early to take a water bus to meet our guide for the Burano & Murano tour.  Burano is made up of incredible pastel coloured houses with some of the best Burano lace shops around.  We got to see a lace demonstration in one of the lace shops. After some shopping and drinking coffee, we took a water bus to Murano.  Murano is famous for its glass making.  We got to visit one of the many glass factories and see a live demonstration.  Once we finished at the factory, we were off for a tasty lunch.  We spent some time shopping in Murano and got a water bus to St. Mark's Square where we took a gondola ride.  Did I happen to mention how great the food and wine is in Venice?
24 September - Florence
After an early check out, we took a short ride on the water bus to the Venezia Santa Lucia train station for a 2 day stop in Florence. It was a two hour train ride from Venice to Florence. Our hotel in Florence was steps away from the Firenze SMN train station. After checking into the hotel, we had lunch at one of the recommended local restaurants known for its steak. Some of the group indulged and had the Florentine steak. Did I happen to mention how great the food and wine is in Florence?  After we ate, we joined our guide for the Heart of Florence City walking tour which gave us an introduction to the city. We met our guide at the Basilica San Lorenzo and walked through some of the most beautiful areas in Florence. Some of the sights included the Duomo, the Palazzo Vecchio and Piazza della Signori. The Ponte Vecchio is a must see at night.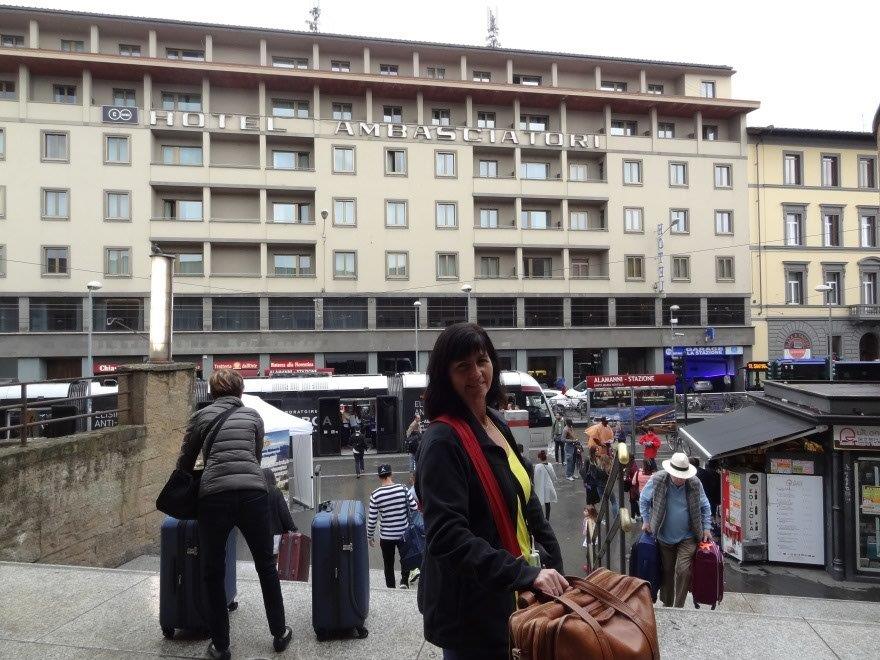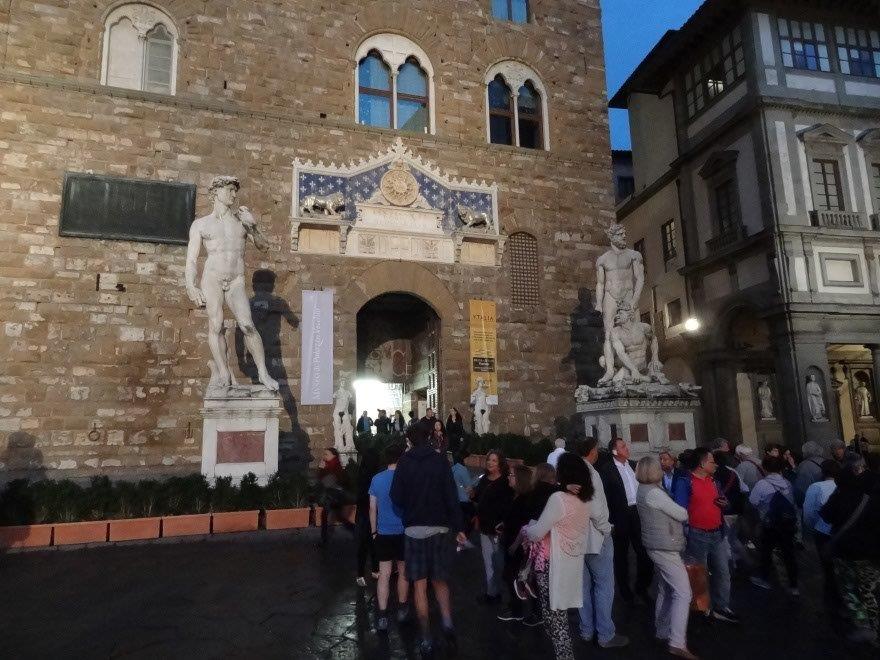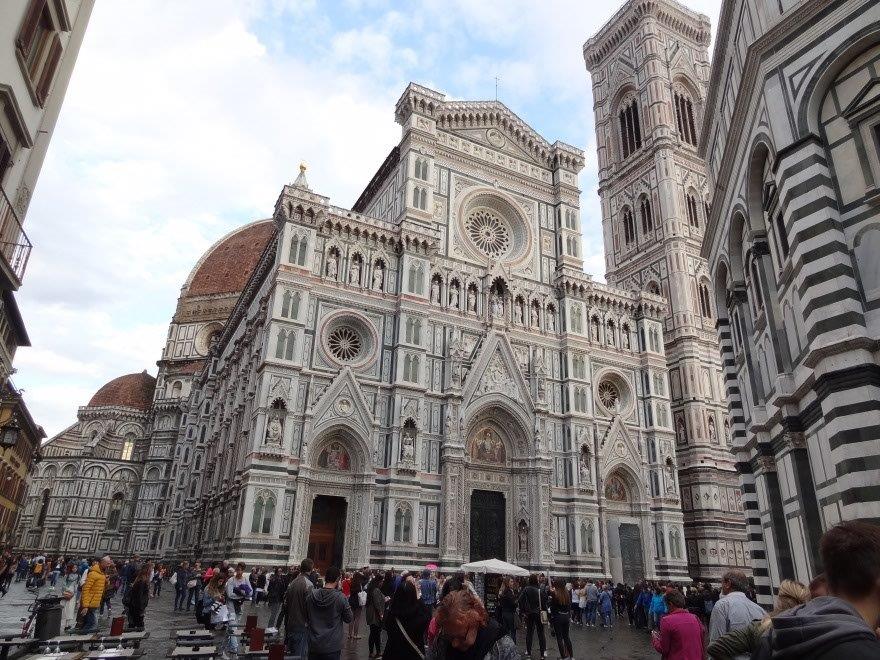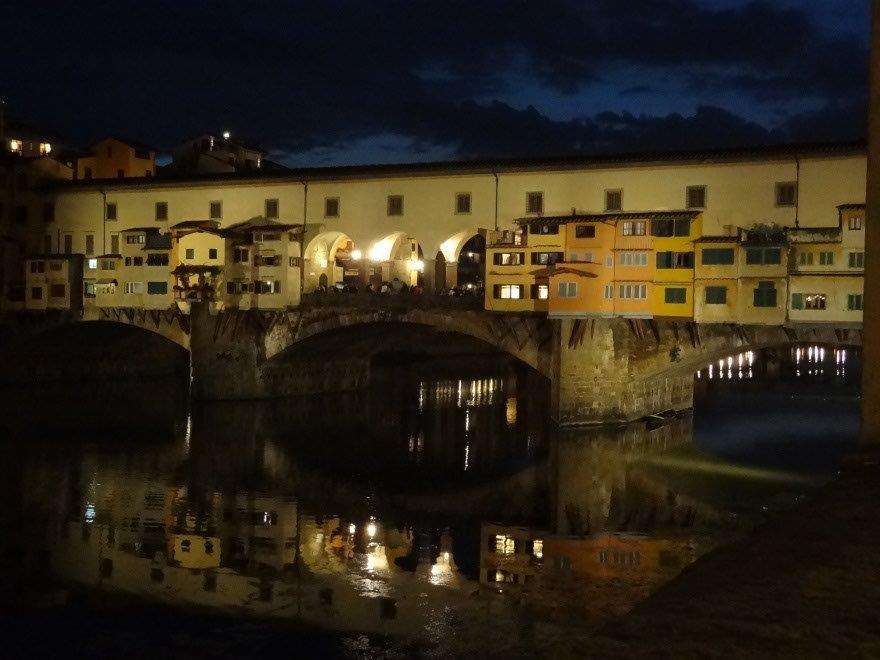 25 September – Florence & Tuscany
On Monday, we took a private tour to Tuscany.  Some highlights include visiting a castle which is still in use and driving through some of the famous roads and seeing some of the countryside.  We visited Montereggione, Siena and stopped for a winery tour.  The tour was finished off with lunch and of course, wine tasting.  Our final stop was in San Gimignano where we sampled some of the best gelato in Italy.
26 September - Rome
We checked out of our hotel in Florence and walked across the street to our train station.  We were now on our way for 2 days in Rome before the start of our cruise.  After a short 90 minute ride, we arrived in Rome at the Roma Termini.  Our hotel was located within the Heart of Rome and was within walking distance to many of the popular tourist attractions.  Most of the group went on the Vatican Walking Tour but my husband and I did the Jewish Ghetto tour as this was our second visit to Rome.    We met our guide at the Piazza Venezi where he walked us through the history of the Jewish community into its present day where it continues to thrive today.  We finished our tour in beautiful Trastevere.  The evening was busy with the Heart of Rome walking tour.  We got to see some of Rome's highlights which included the Spanish Steps, Trevi Fountain and the Piazza Navona to name a few.
27 September - Rome
Our day started off with a tour of the Colosseum and a golf cart tour in the afternoon.  Some of our stops included Piazza del Popolo., Via del Corso, Piazza Venezia, Gianicolo hill, and Circus Maximus.  Did I happen to mention that the food and wine in Rome is also amazing!
Day 1 - 28 September - Civitavecchia
This morning we're off to Civitavecchia for the start of our 9-night cruise to the Greek Isles on Royal Caribbean's Jewel of the Seas.  We arrived on board around lunch time which gave us lots of time to explore the ship before the Sail Away Celebration. There is so much to do onboard…something for everyone.  Some of the activities on board include swimming, exercising, cinema, bingo, casino, spa, cooking classes, wine tasting, dancing, etc.  I could go on and on as there was so much more to do. 
Jewel of the Seas  Launched: March 13, 2004  Refurbished: April, 2016
Length: 293m  Guest Capacity: 2,110+  Ship Crew: 842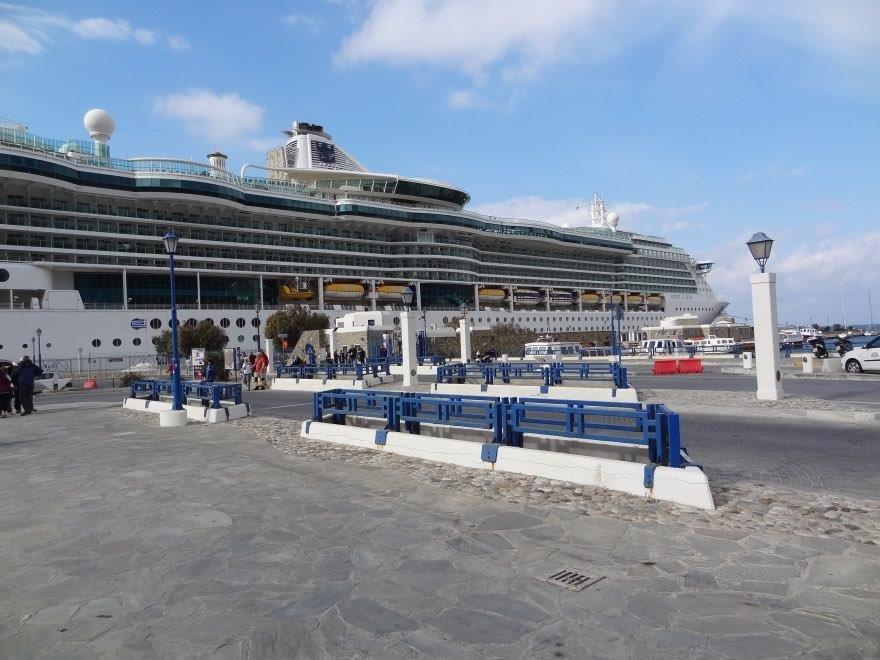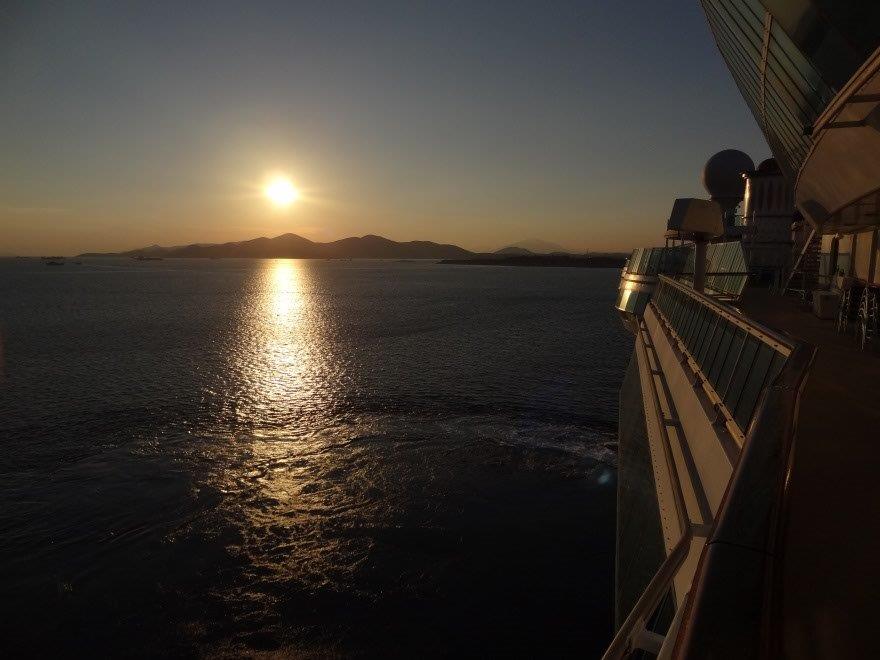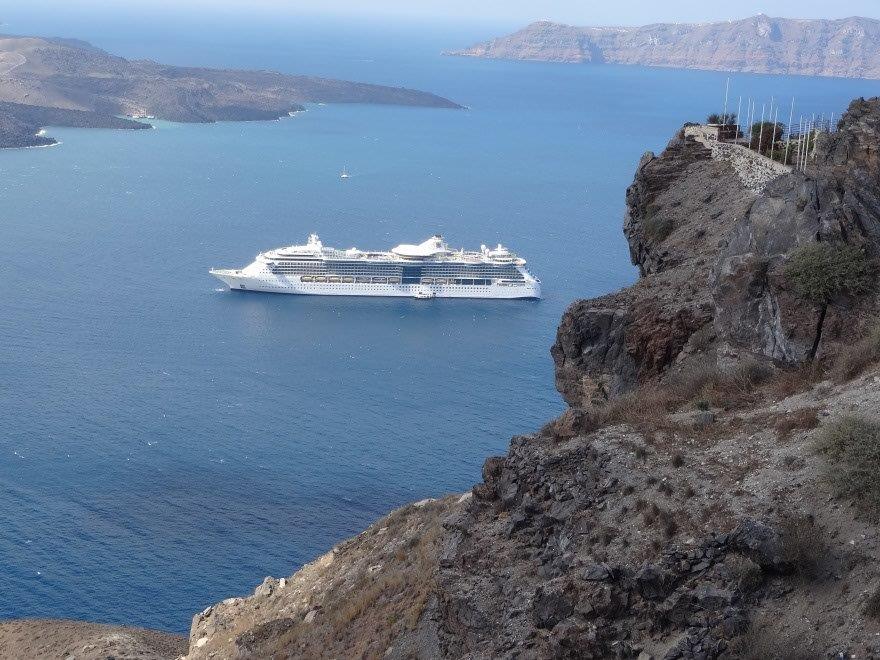 Day 2 - 29 September – Sicily (Messina)
Our arrival into Sicily (Messina) was 11:00am.  We were picked up at the dock and drove on the winding roads for our tour of Taormina and Castelmola.  Castelmola is a small village just above Taormina, with amazing landscapes and views.  You can normally get a great view of Mount Etna (the highest volcano in Europe) but today it was mostly covered in clouds.  We drove 10 minutes to Taormina after we finished in Castelmola.  Taormina has a nice pedestrian path where you can find lots of shopping and restaurants.   We ate some of the best pizza here.  After leaving Taormina, we did a couple of quick scenic stops before heading back to our ship in Messina.
Day 3 - 30 September – Sea Day
Today was the first of our 2 sea days. We spent the day relaxing by the pool but there were lots of activities to keep you busy if you wanted to. Tonight was formal night where you had the opportunity to join the Captain's Welcome Aboard Reception & get some pictures taken with the Captain if you wished. Our Captain was Canadian and was from Vancouver, Canada. We tried our luck at the casino after attending a Production in the Coral Theatre.
Day 4 - 01 October - Mykonos
We arrived in Mykonos at 7:00am.  Originally, we were scheduled to spend half a day at Elia Beach and the other half in town but our beach day was cancelled due to high winds.  We took the waterbus at the pier to the downtown area for about 5 Euros per person, round trip.  We decided to walk the 3 ½ km back to the ship instead of taking the return transfer.   We spent the day in Mykonos walking and looking at the sights before feasting on lunch, coffee and pastries.
Day 5 - 02 October - Rhodes
We arrived at Rhodes 7:00am where we arranged a ½ day Best of Rhodes tour.  Our tour started 8:30am where our first stop allowed us to see some historical buildings and Old Harbour. We drove towards Lindos where we stopped along the way to see some impressive views.  We had a short stop at a traditional pottery work shop where we watched a demonstration of how the famous Rhodian potteries/ceramics are made.  Saint Paul's Bay is incredible.  We were dropped off at the main square of Linos village where some of us climbed up to the Acropolis of Lindos.   We spent some time browsing in Lindos before leaving to drive back to Rhodes Old City for some food and shopping.  Old City, which is a Medieval City, is about a 10 minute walk back to the cruise port.  
Day 6 - 03 October - Santorini
After our arrival in Santorini at 7:00am, we were tendered for a 7:15am Island of Santorini and Village of Oia tour.  This early departure allowed us to tour in the morning and gave us free time on our own in the afternoon.  The first part of the tour took us to Oia which is beautiful.  We had some free time to walk around and then left for a local winery for wine tasting.  Next, we headed to Fira.  After our tour finished, we walked around town and did a bit of shopping.  I tasted some of the best pastries and coffee in Santorini.  Even though we had a ticket to use the cable car to return to the pier, we decided to walk down the stairs, along with the donkeys going up and down.  Once we arrived back at the pier, we took the tender back to our ship.
Day 7 - 04 October - Athens
We arrived in Athens at 6:00am where we had our tour booked for 8:00am. We started our tour by visiting the Parthenon at the Acropolis. Some of our top sites included a stop at the Panathenaic Stadium where the first modern day Olympics was held. We saw the changing of the guides at the Presidents Palace and got to go to St. George Lycabettus, which is the highest point in the city that offers panoramic views. We had lunch at a local restaurant where we selected a wide variety of Greek dishes. The food and service was amazing. Once we finished lunch, we were off to visit Plaka, the oldest neighborhood in the city that consists of a maze of narrow shop filled streets. We headed back to our ship once we finished shopping.
Day 8 - 05 October – Sea Day
Today was the second of our 2 sea days.  There were lots of activities happening again today but we spent a relaxing day by the pool.  Tonight was our second formal night.  After supper, we attended the headliner show.
Day 9 - 06 October – Naples (Capri)
We arrived in Naples at 7:00am where we went to Capri as we spent time in Positano, Amalfi and Pompeii on our last visit. Our tour started with a 50 minute jetfoil ride to the Isle of Capri. We drove on the Mamma Mia Road (also referred to as the OH MY GOD ROAD) to reach AnaCapri. We took a chairlift to get on the highest point on the island where we spent some time enjoying the view. After we got the chairlift back down, we spent a little more time walking around town before we got the bus down to Capri. We stopped for lunch at a restaurant that boasted to have one of the best views in Capri. After lunch, we walked around Capri and then decided to take a boat ride around the Isle of Capri for some sightseeing. We got to see the entrance to the Blue Grotto but didn't get an opportunity to visit. We finished our ride and then we were back on the jetfoil ride back to our ship. 
07 October -Rome
This signals the end of our cruise.  We headed back to Rome where we went to the Vatican for a tour of the Necropolis which is located under the Vatican.  The remainder of the day was spent wandering around Rome, enjoying our last day before our departure on 08 October. 
Overall
Although this was a busy vacation jammed packed with lots of tours and visiting, we got to experience and see some of the most amazing places.  I can't put my finger on any one place or experience as being my favorite as there were so many things we experienced and saw that everything seemed to be my favorite!  I would like to go back again as this was just a taste of what there is to see and do in Italy and Greece.  I thoroughly enjoyed sharing these experiences with such a great group of people.