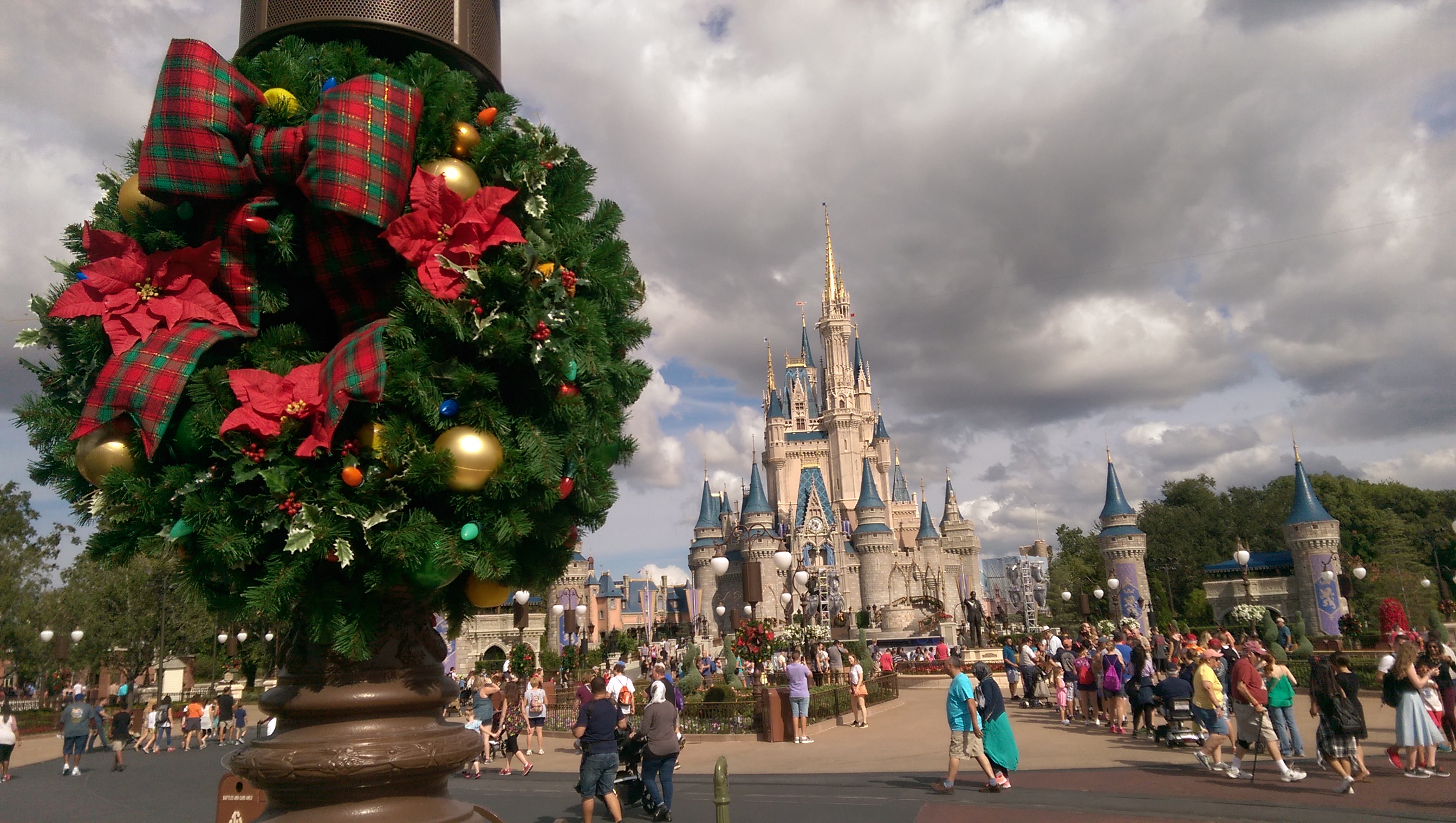 Magic Kingdom and Mickey's Very Merry Christmas Party
An opportunity to attend an inaugural sailing of Harmony of the Seas out of Fort Lauderdale in Nov 2016 was extended to my wife and I which lead to us travelling to Walt Disney World for a 2 night 3 day visit. With our limited time, we knew we had to prioritize what we wanted to see and do with all the recent updates to Walt Disney World.  After looking at the options, we narrowed down our plan to visit Disney Springs as we wanted to see the new "storyline" that redesigned Downtown Disney into the shopping/dining/entertainment district it is famous for. When it came to visiting the parks, Magic Kingdom was the choice as our dates also coincided with the first of Mickey's Very Merry Christmas Party for 2016. Many people have said that Disney is only for kids, but believe me, spending time in Walt Disney World without kids is just as magical!
Coronado Springs Resort
For our 2 nights, we stayed at Disney's Coronado Springs Resort which is one of the moderate resorts. A benefit of staying at a Disney Resort is the Magical Express transfer service so on arrival at the Orlando Airport, we had a short 10 min wait until we were onboard and off to the resort. The resort offers a Southwest/Texas/Mexican decor and as soon as you arrive in the lobby, you feel the relaxing vibe of these regions. The resort is divided into 3 sections of accommodations, but all are within an easy stroll of the main lobby/dining area so you really can't go wrong. There are 4 bus depots around the resort so after a long day in the parks, you can ride the bus to within steps of your room. When it comes to pools, there are numerous quite pools located within each building complex. but the hilight to the resort is The Dig. A pool area that features a Mexican pyramid and waterfall along with a waterslide. There is also a children's pool, adult spa, plenty of seating and a snack bar all within The Dig area so a day at the pool should be a must on your next stay.
Disney Springs
Once known as Downtown Disney, there has been a major refurbishment to the area over the past couple of years. You will still find some of your favorite spots such as DisneyQuest, Cirque du Soleil, The World of Disney, Lego Store and top dining spots like Rainforest Cafe, Planet Hollywood, Raglan Road and House of Blues, you will now find dozens of new shops/dining venues. Getting around the area has also improved with new walking paths, bridges and parking garages so once again, Disney has delivered an area you can enjoy day and night. I would suggest allowing some free time to explore in the mornings as you will find the crowds lighter than towards the end of the day/weekends. As there is no cost to visit Disney Springs, consider a couple of visits as you will need some time to take in all of the shopping/entertainment venues that have opened and are opening.
Magic Kingdom
Our day in the Magic Kingdom started with an early rise as we managed to hook a reservation for breakfast at Be Our Guest. The restaurant is a replica of the castle from Beauty and The Beast where you choose to dine in either the West Wing, The Ballroom or The Rose Room. As there was only 2 of us, we found a table in the very popular Rose Room which even though is dark, was a great way to start our day. Oh, I almost forgot, just like Lumineer says in the song, you need to try the gray stuff, it truly is delicious. After breakfast and with our 3 Fastpass Plus rides confirmed, we headed through Fantasyland jumping on The Little Mermaid Ride and Goofy's Barnyard Rollercoaster with less than 5 min waits. Space Mountain was next on our list and was the longest wait of the day at 25 mins, but during the wait, the queue line offered some entertainment so the time passed very quickly. Adventureland was next on our list where we took in The Enchanted Tiki Room, Jungle Cruise, Pirates of the Caribbean and then Pirate's Adventure - Treasures of the Seven Seas. Like any search for lost treasure, if you complete the adventure, you can earn a special treasure that is worth it's "weight in gold". Ask me for more details on this one...you won't be disappointed. After some rest time (people watching), we headed to Frontierland as Splash Mountain was calling us and it was one of our Fastpass Plus rides. We did find our laughing place here and as a tip, you need to really enjoy the magical view of the Magic Kingdom mountain range plus castle as you crest the top of Splash Mountain. As we were attending Mickey's Very Merry Christmas Party tonight, we decided to take a mid-afternoon break and return to Coronado Springs Resort, but before leaving the park, we took in The Country Bear Jamboree, The Haunted Mansion and finished with Seven Dwarfs Mine Train. The day so far had been seamless as we moved freely through the park enjoying the rides and christmas decor that had started to appear. Heading down Main Street is always enjoyable for window shopping and meeting characters, but we opted to grab a quick snack at the bakery for the ride back to our resort.
Mickey's Very Merry Christmas Party
This is a special ticket event that only occurs on select nights during November and December. If you are planning a visit during this time, you need to experience this event as the cost includes such value. Only 25, 000 tickets are sold which may seem like alot, but consider the park can hold 80,000 people and you quickly realize the park will be "empty". Many of the rides were walk on lines even though the Disney app was showing 5-10 mins waits. There were some lines at Peter Pan, Space Mountain and Seven Dwarfs Mine Train, but if you worked your schedule right, you could shorten the wait times here.
The highlights to the party are Mickey's Once Upon A Christmas Time Parade, Holiday Wishes fireworks, A Frozen Holiday Wish (stage show) and Mickey's Most Merriest Celebration (stage show). Throughout the park you will find complimentary Holiday Treat locations for when you need a "holiday" snack or a little hot chocolate. For the younger children there are dance parties located in Tomorrowland and Fantasyland that really get you in the holiday spirit. You really don't want to miss the parade and fireworks as Disney knows how to celebrate the holidays so find a spot on Main Street to enjoy the action. Oh and remember to bring a little of that hot chocolate with you as you may find it snowing on Main Street.  There is also the opportunity to meet characters throughout the park that you may not see on a regular day so even though the party lasts 5 hours officially (8 hours unofficially) you still need to focus on what will make the day/event memorable for you.  On this particular visit for my wife and I, it was the fireworks, parades and rides which had us heading back to our resort that night in a very festive (yes tired) mood.