Jennifer's NCL Getway 7 Night Sailing 2015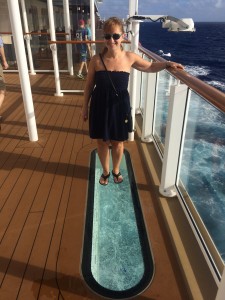 Jennifer along with her family and some friends headed south to sail from Miami 02Jan15 on the NCL Getaway. They took advantage of some amazing "post holiday" rates for the cruise and added in a few nights in Florida before heading out on the 7 night sailing.  On this sailing, Jennifer maximized the "post holiday" rates and booked a mini suite with a large balcony. With the additional square footage of the mini-suite, we had an incredibly large shower and balcony. The balcony was large enough for two loungers, table/chairs which allowed her to truly unwind in peace as the world floated by.
For meals, they all really enjoyed the freestyle dining along with the speciality dining restaurants. They had the "freedom" to choose where and when they wanted to dine each night. There are some small fees for the specialty dining venues, but throughout the year, NCL offers promotions that may include up to 4 free speciality dining reservations at no cost.
For some, this was their first cruise while others had cruised before, yet they all agreed it was a great experience.
The NCL Getaway has something for everyone onboard. For the outgoing, you can take on the rope course with a plank that has you standing hundreds of feet above the ocean, a rock climbing wall with various levels of difficulty, some of the fastest water slides at sea and even a bowling alley. The nightlife was fantastic, especially the dueling piano bar where you are always free to sing along or you could laugh away at the comedy club and dance the night away at the top deck dance party.
If you want to know more about sailing on NCL Getaway, contact us today!
---