Patrick's 2 Night Sailing on Quantum of the Seas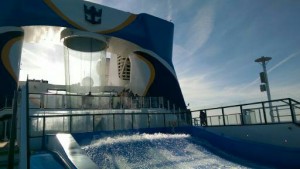 Royal Caribbean invited my wife and I on one of the inaugural sailings of their newest ship, Quantum of the Seas in November 2014.  Our itinerary began in Cape Liberty, New Jersey for 3 days/2 nights sailing to "nowhere" in the Atlantic.  The itinerary was designed for us to experience first hand the new "wow" attractions and what Royal Caribbean was describing as the smartest ship at sea.  Even though the weather outside was cool, the ship has been designed to keep you busy with numerous "indoor" activities.  A great feature since Quantum and her sister ships are going to be based in "cooler" home ports such as London and New York.
---
The Basics:
Guest Capacity: 4,180  Total Crew: 1,490 Decks: 16
Length: 1,141 feet  Beam: 136 feet  Draft: 28 feet  Gross Tonage: 167,800
The Highlights:
Ripcord by iFly – a sky diving simulator at sea, no fear of jumping out of planes here!
North Star – a capsule that gently rises to 300 feet above sea level allowing you amazing/unique views of the ship and ocean.
TWO70 – one of a kind room that changes atmosphere and takes you on a journey from day until night
Seaplex – largest indoor active space at sea including bumper cars, roller skating and a trapeze
Bionic Bar – this unique bar allows you to relax as 2 robots create your refreshment of choice
---
As we walked onto the ship, I was surprised by the atrium.  Gone was the ship wide, multi-deck high promenade I had become accustomed to with Royal Caribbean, it had been replaced with a quaint 2 level atrium that still felt like the "heart" of the ship.  Sorrento's, Café Promenade, Guest Services, Shore Excursions and Schooner's were waiting for us, but mixed in were new features such as Bionic Bar, Michael's Genuine Pub, Izumi and Wonderland.
After reaching our cabin, we set out to explore the ship as time was ticking.  We wandered towards the aft as I wanted to see what TWO70 was all about.  There were a few surprises before reaching TWO70, the back half of the ship on deck 5 felt as we had transferred from a Royal Caribbean ship to their sister company, Celebrity Cruises.  The décor was so clean and fresh, it felt like you had stepped outside on a bright day.  We passed Jamie Oliver's restaurant, Jamie's Italian, the wine bar, Café TWO70 and then we entered TWO70, this amazing area.  The entire back of the ship was a glass window offering a 270 degree view.  The atmosphere was relaxed and peaceful, a great spot to let the day slip by with a good book.  We knew when we returned tonight for the show, we would not be disappointed.   The evening offers a completely different atmosphere, it's almost electrifying as we waited for the technology and cast to begin.  All I can say, it's a show you must see and rivals any headliner show you would see in Las Vegas.
The Solarium at the front of the ship just oozes relaxation as soon as you entered.  The views of Manhattan were stunning as we sat back for a few minutes of rest.  Next stop was the Seaplex and again, no disappointment here.  Activities ranged from bumper cars, to basketball to trapeze lessons as well as some time challenging friends to various Xbox games.  If you had a day at sea and the weather wasn't working, then the Seaplex is the place to be.
A trip on the North Star was a must do and even though you are taken 300 feet above sea level, the ride is so smooth you barely notice moving.  It really is a must do event and I would recommend a trip in the daylight and another in the evening.
Ripcord by Ifly was the most popular attraction, but the wait time was well worth the experience.  I am sure on a longer voyage, there would be very little wait time but as 4000 guests had just over 48 hours to squeeze everything in, it was just part of the experience.  Skydiving has always interested me, but stepping out of a perfectly good aircraft was my issue.  Well Ripcord allowed me to experience the rush of skydiving and it was awesome.
Quantum of the Seas is an amazing smart ship that anyone who enjoys technology would love.  Stepping onto a cruise used to mean disconnecting from the internet, but Quantum changes all of that.  We were able to FaceTime with no delays or freezing throughout our 2 nights.  Wristbands for each guest allow you to purchase items, order drinks, book tours and enter your cabin without ever trying to locate your traditional room key.
There is so much more I could share on this outstanding ship and class that Royal Caribbean created, but I thought you may enjoy a few pictures and videos of my time onboard.  Please contact Patrick with any questions you may have.
---
Bionic Bar Dancing
Ripcord by IFly (yes that's me flying!!)
---